Are you struggling to find a rental property in Miami on the coast of South Florida and interested how much it costs to rent an apartment in Miami? Miami Invest Realty is a reliable agency, which specializes in rentals and knows all ins and outs of the housing market in South Florida.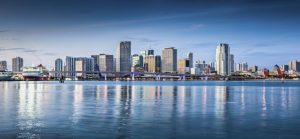 Renting a luxury villa in Miami Beach
Those seeking either a short- or a long-term rent of a luxurious property may want to consider one of our finest villa choices in Miami Beach offering deluxe 5-star hotel facilities and amenities as well as any additional in-villa services.
If you want to rent a villa in Miami Beach, get to know a few of our luxury villa rentals here.
Villa Azza, Miami Beach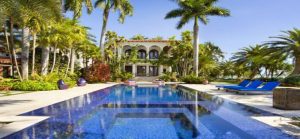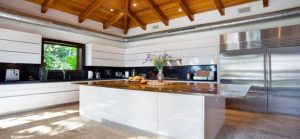 Villa Azza is an exclusive Miami Beach rental from every standpoint. This private waterfront property surrounded by a captivating garden with palm trees features a pool with waterfall and Jacuzzi, a patio and an extensive inner courtyard with BBQ offering splendid outdoor relaxation and dining opportunities. The residence provides 5 bedrooms and 6 bathrooms which boast stylish interiors with clean contemporary lines.
Villa Helena, Miami Beach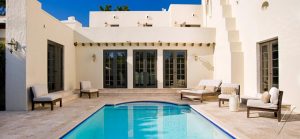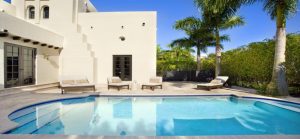 Out of dozens of rental properties in Miami Beach villa Helena stands out by meeting the highest demands for privacy, amenities, décor, ambience, and design in perfect location.
This 9333 square feet, 5 + 1-bedroom property built with the Art Deco motifs has an outdoor pool and Jacuzzi, a balcony with pool views, a patio and a barbecue area. Tenants will enjoy a seating area, a dining area and a kitchen complete with all necessary gadgets and equipment. The interior of the villa boasts marble floors and custom chandeliers. A flat-screen TV and Blu-ray player, as well as an iPad and an iPod docking station are provided.
Renting a luxury condo in Miami
Are seeking to rent an apartment in Miami that can boast not only the world-renowned beaches and striving nightlife, but the most luxurious condominiums as well?
Mansions at Acqualina and Jade Ocean are leaders in luxury that will anticipate the needs and demands of the most demanding public. Discover these most luxurious condos in Miami with Miami Invest Realty.
Jade Ocean, Miami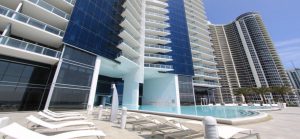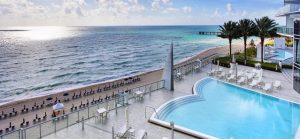 Jade Ocean is a 55-story tower, which will embrace you with unprecedented elegance and glamour, exclusive design and state-of-the-art building technology. It sets a new luxury standard in Miami. You are bound to be impressed by its 3- story Lobby with vast direct ocean and pool views, private beach club with cafes and restaurants, an oceanfront pool deck with a spacious hot tub, pool services, a pool bar, children's playroom and a lot more.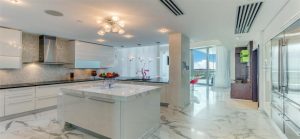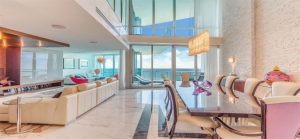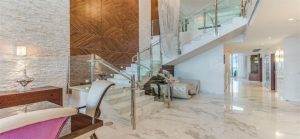 Jade Ocean features one of the fabulous penthouses in Miami – a top floor suite with soaring views far away from the hustle and bustle of the city street.
With the total living area of 4900 square feet, 4 bedrooms and 4,5 bathrooms, the penthouse boasts a contemporary décor and precious materials like marble and crystal gracing nearly every surface. The living room in pastel shades, the master bedroom with a spacious balcony and stunning panoramic views, the bathroom are true pieces-de-resistance.
This premium quality piece of property will offer you a unique experience in comfort.
The Mansions at Acqualina, Miami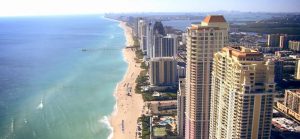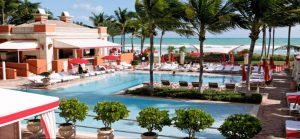 Mansions at Acqualina is a 47-storey new development that offers its tenants spacious residences some of which occupy the entire floor. The building is designed in a Mediterranean style. All the residences have huge terraces with stunning water views. The private bridge in the residential complex connects Mansions at Acqualina with Acqualina Resort and Spa whose services are at your disposal.
This is an excellent choice for people with sophisticated taste, accustomed to luxury: living in Mansions at Acqualina is a dolce vita near the beach.
Keep in mind that the commission on a rental is paid by the landlord.
Gain a truly perfect experience of renting with Miami Invest Realty (+1 305 924 6985) and have a chance to rent an apartment in Miami (Florida):
monthly
weekly
for long-term occupancy
for a short duration